OCRACES Online and In-Person Meetings and Group Activities
As new COVID-19 cases are beginning to ease, we plan to resume outside group activities. Online OCRACES meetings have been well-attended during the pandemic. We will continue monthly meetings, interspersed with in-person meetings, perhaps quarterly. Monday night 2-meter nets at 7:00 p.m. and Saturday morning 60-meter nets at 10:00 a.m. will continue (except for some major holidays). However, due to new schedules in the OCSD Reserve Bureau, mandatory PSR meetings will occasionally be held on Monday evenings, resulting in OCRACES ACS net cancelations on those evenings and possible shift in OCRACES meetings to a different Monday.

Websites with COVID-19 Information
The Orange County Health Care Agency website at https://occovid19.ochealthinfo.com has information that is regularly updated regarding the status of COVID-19 in Orange County. A good site to monitor for the latest Orange County COVID-19 news is https://www.ocgov.com.
For information about COVID-19 in the state of California, visit https://covid19.ca.gov. That site emphasizes that if you have any symptoms or are at risk, it's especially important to stay home and avoid in-person contact with others.
CDC and FEMA have an informative website at https://www.coronavirus.gov. You can also visit https://www.fema.gov/disaster/coronavirus.
FEMA has a website at https://www.fema.gov/disaster/coronavirus/rumor-control to help you distinguish between rumors and facts regarding the response to the pandemic.
Sign up for County of Orange AlertOC COVID-19 updates to your smartphone. Text "OCCOVID19" to 888777.

38 Participate in Earthquake Drill on October 21, 2021
OCRACES conducted a countywide Great ShakeOut earthquake emergency communications exercise on Thursday, October 21, 2021. All communications were on the OCRACES 2-meter repeater on 146.895 MHz. The exercise provided City and County RACES and EmComm units an opportunity to practice giving observational reports following a major earthquake in Orange County. Under actual earthquake conditions, the reports would provide data to local and county agencies for creating an initial picture of the situation at various locations across the county. RACES members would provide "eyes and ears" for an early and wide assessment.
| | |
| --- | --- |
| Eric Bowen, W6RTR. | Net control was at the Orange County EOC and reports were received from throughout Orange County. As would be typical during a strong earthquake, net control (which included Ken Bourne, W6HK, and Eric Bowen, W6RTR, taking turns as radio operator and scribe) received multiple reports every minute and did not have time to fill out individual ICS-213 message forms. Messages were quickly jotted down and those requiring immediate agency response would have been rushed into the EOC Command Center by a runner under actual conditions. Scott MacGillivray, KM6RTE, experimented with Winlink and AREDN/mesh at Loma Ridge during the exercise. |
Earthquake intensity reports were given as "Mike-Mike," based on the Modified Mercalli Earthquake Intensity Scale, using expanded USGS standards. "Observational" reports included "Mike-Mike" ranges of 1 through 4 or 5 and the general location (such as the city name) and typically would not be needed by the Command Center, but would be useful in determining which areas of the county were not severely affected. "Critical" reports included "Mike-Mike ranges above 5 or 6 plus the exact locations and conditions requiring agency response, including fires, downed utility lines, power outage, traffic-signal outage, bridge collapse, tsunami warning, broken windows, and gas leak.
Participating OCRACES stations in the field included KD6DAQ, WF6F, KK6HFS, KC6MMF, N6PRL, NJ6R, and K3TOG.
Many members from city RACES/ACS units participated, including Anaheim (KW6ACK), Costa Mesa (MESAC) (KJ6PFW, WB6NOA, and KM6UJD), Fountain Valley (KK6OEX), Fullerton (K6FUL, KB4GOD, and K6OGD), Huntington Beach (KE6BNS, K6HMS, WB6OZD, and W6SNX), Mission Viejo (KF6BRC and W6EDT), Laguna Niguel (WB6CKG, KK6CUR, K0PGE, and KK6URR), Laguna Woods (NH7WG), Los Alamitos/Seal Beach (KM6RSY), Orange (COAR) (KK6YUP), and Westminster (KJ6EBA and N6HVC). From Orange County Red Cross were K6HMS, KG6WTQ, and KM6ZPO, and San Diego County Red Cross was WA6DNT. From OCHEART were KE6MVS, K0PGE, and KM6RSY.

City/County/EmComm Drill Held on October 2, 2021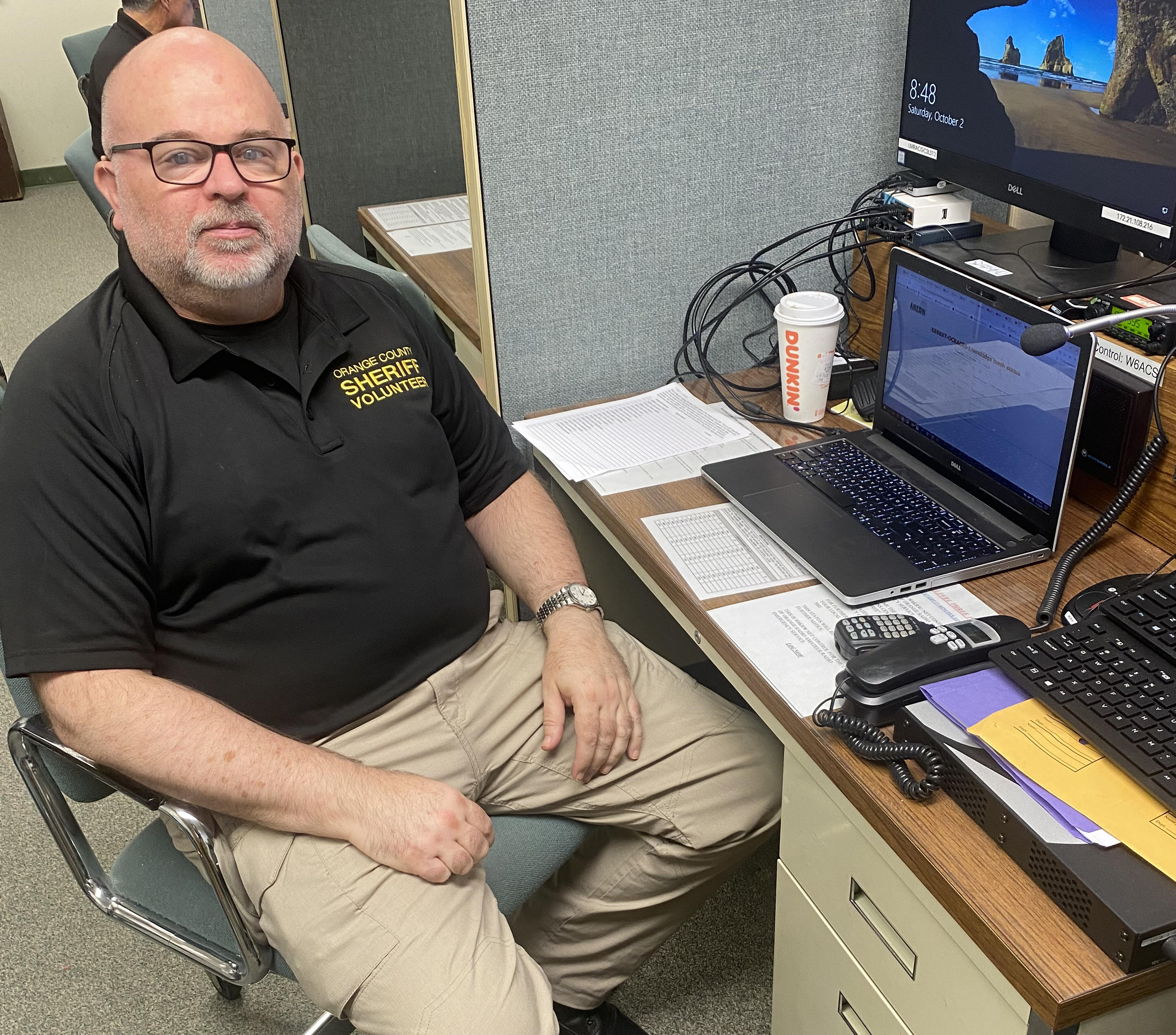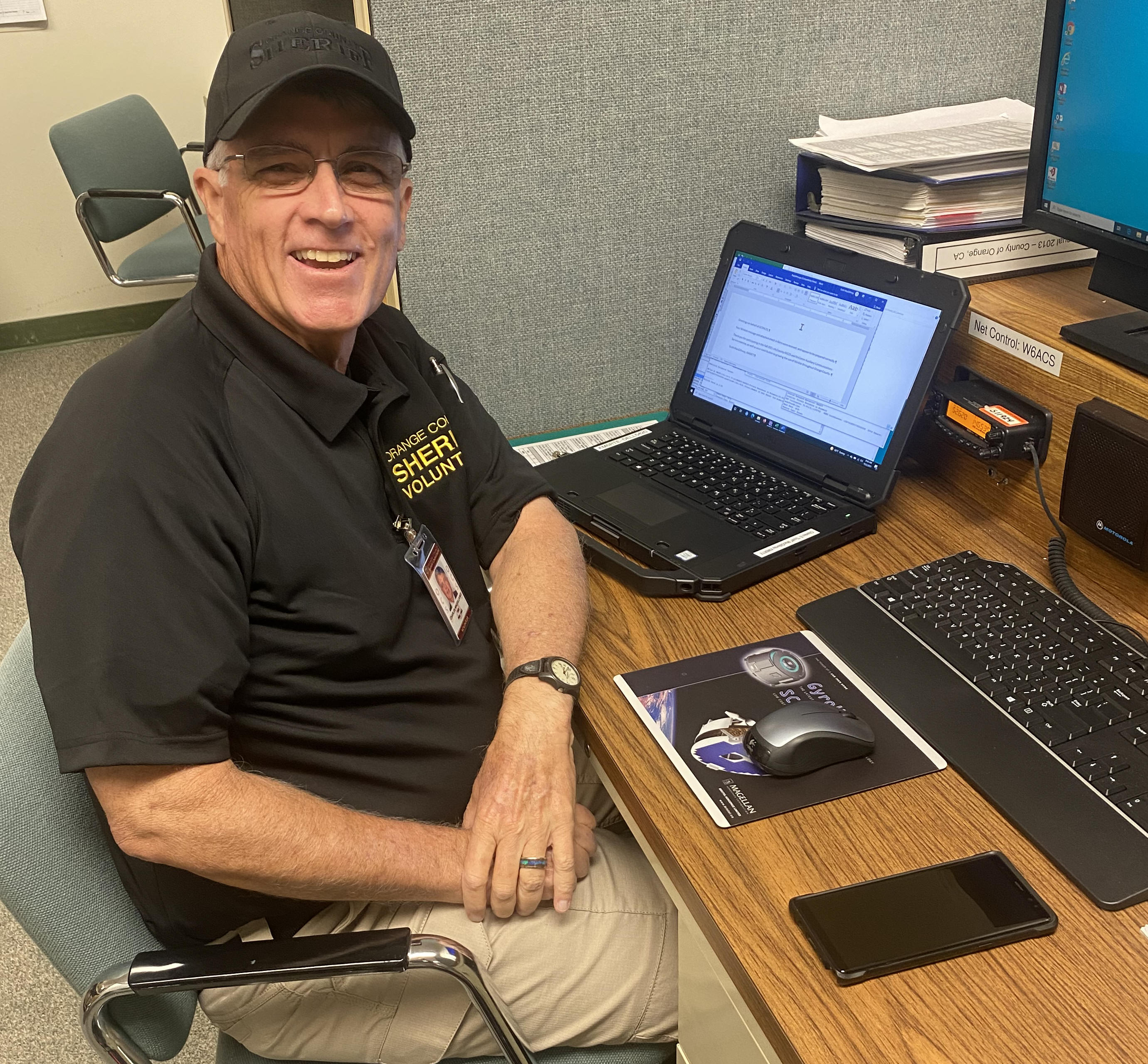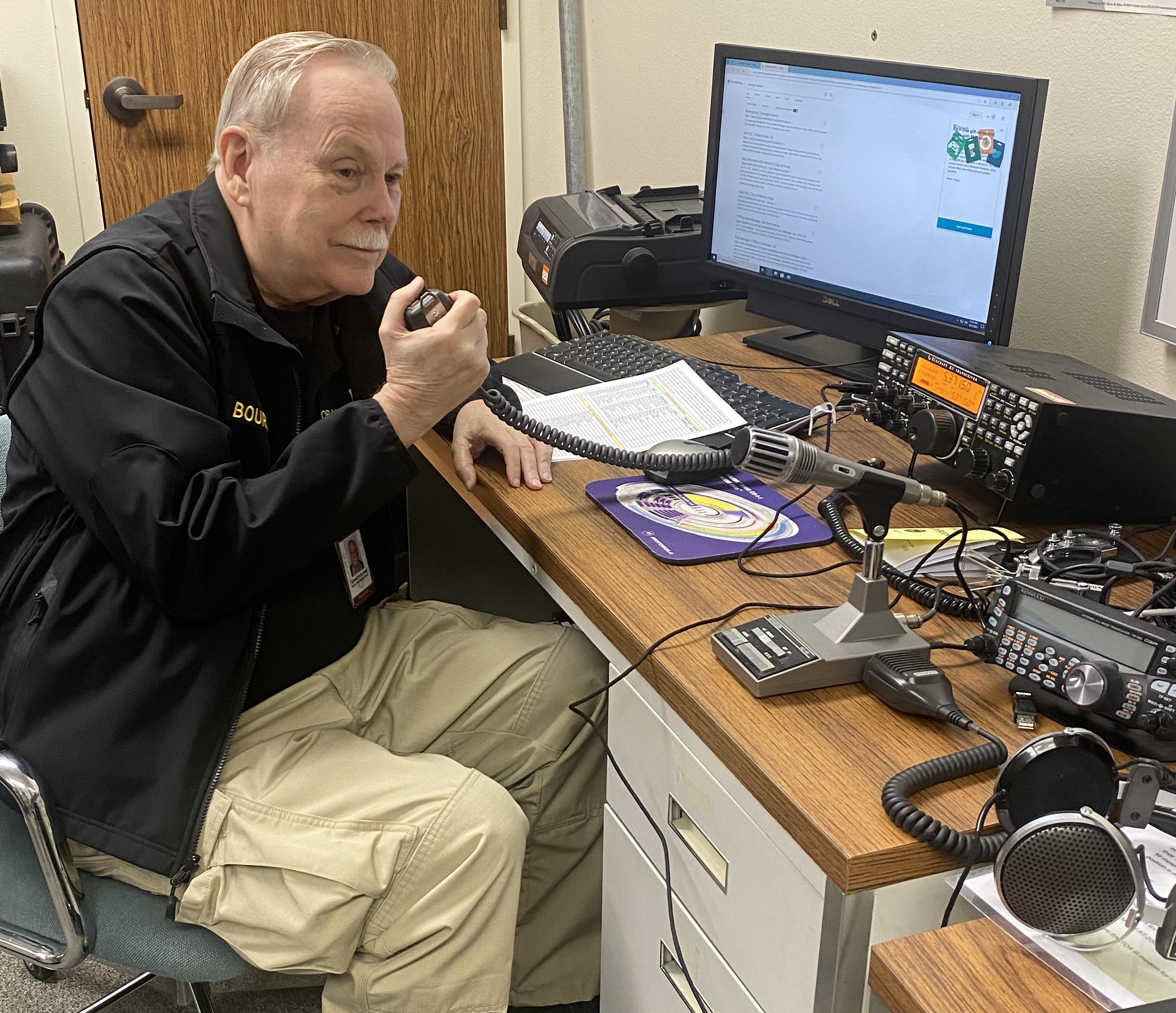 Eric Bowen, W6RTR (left), at 2-meter simplex station; Scott MacGillivray, KM6RTE (center), at Winlink station, and Ken Bourne, W6HK (right), at 60-meter station at the OC EOC RACES Room.
On Saturday, October 2, 2021, from 0900 to 1200 hours, OCRACES conducted its biannual City/County RACES & EmComm ACS Exercise. Net control operators at the Orange County EOC RACES Room at Loma Ridge included Eric Bowen, W6RTR, on 2 meters simplex and observing AREDN mesh, Scott MacGillivray, KM6RTE, on Winlink, and Ken Bourne, W6HK, on 60 meters.
This simplex portion of the drill simulated repeater failures throughout the county and each RACES/ACS unit conducted this drill on their simplex frequencies. From 0900 to 0930 hours, city RACES units and MOUs called a roll of their members on their primary simplex frequencies, while OCRACES net control called the roll of its members on the OCRACES primary simplex frequency of 146.595 MHz. From 0930 to 1000 hours, net control called the roll of the city RACES and MOU units on 146.595 simplex frequency. Each unit responded with the total number of participants from their members, as well as any visitors checking in to their net.
AREDN mesh was added for the first time to this exercise. Each unit was asked to log in to a node and take a screenshot from the attached camera, as well as make phone calls to other AREDN mesh users.
In the Winlink portion of the exercise, operators prepared a message with an attached Express Check-In form and sent it to OCRACES tactical and member addresses. To maximize the delivery options, with the OCRACES Winlink RMS Gateways currently offline and very limited alternative gateways available in Orange County, the Winlink messages were sent using any of the communications modes available to the operator, which included telnet (i.e., direct connection to the internet). A total of 82 messages were sent and received, with messages sent from 31 unique Winlink operators.
The 60-meter portion of the exercise began at 1000 hours, on 5371.5 kHz (dial frequency) upper sideband. Participants included 21 County and City RACES and other EmComm members, RACES and EmComm stations from Los Angeles, San Diego, and Ventura Counties, and non-EmComm stations from Orange, Anaheim Hills, Santa Maria, and a mobile from the Sierra National Forest northeast of Fresno.

OCRACES Participates in Alternate EOC Drill on June 30, 2021
OCRACES played a role in the 2021 Alternate EOC Exercise on Wednesday, June 30, 2021. For realism, this exercise was kept confidential from much of OCSD Emergency Management Division (EMD) personnel until it was activated Wednesday morning. OCRACES, which is an EMD AuxComm unit, was made a component of the exercise, and the exercise was also kept confidential to its members until the OCRACES 2-meter repeater was activated for the event.

The exercise scenario was a fail-soft of the 800-MHz radio system, coupled with immediate and severe network connectivity issues at 0600 hours. OCSD Dispatch and Control One experience identical failures, rendering them unable to communicate.

Radio Officer Scott Byington, KC6MMF, Assistant Emergency Manager Lee Kaser, KK6VIV, and Chief Radio Officer Ken Bourne, W6HK (left to right), at OCFA during the Alternate EOC Exercise.
OCSD Systems confirmed that both the 800-MHz system and the OCSD network connections to Loma Ridge had experienced a very complex cyberattack and they were unable to estimate when the services to the facility would be restored. OCIAC determined that multiple response agencies, transportation, and large corporations across the county were having similar issues and that a foreign government may be at the root of the problem.
The next step in the scenario was for OCSD Executive Command to place all sworn and essential professional staff on Tactical Alert. The OCSD Department Operations Center (DOC) activated to Level 2 at the Southwest Operations Division, Saddleback Station. EMD activated OCRACES on the 2-meter repeater for deployment to predetermined areas to assist with communications. A decision was then made to relocate the EOC to an alternate location. EMD staff rallied at Orange County Fire Authority (OCFA) Headquarters in Irvine, recovered the Alternate EOC equipment, and began setup. OCRACES Chief Radio Officer Ken Bourne, W6HK, and Radio Officer Scott Byington, KC6MMF, were assigned as AUXC to Control 7 at OCFA, to operate net control, beginning at 0930 hours. Joe Selikov, KB6EID, was ready to activate OCRACES members via AlertOC. He and Steve Livingston, NJ6R, and Fran Needham, KJ6UJS, sent and received exercise traffic in the field.
FEMA ICS and NIMS procedures were followed during the exercise. An ICS-211A form was used at Control 7 for checking in Ken and Scott. Messages were sent and received with the ICS-213 form. All activities were logged on an ICS-214 form.

Radio Rodeo Tests Interoperability on May 19, 2021
The federal Cybersecurity and Infrastructure Security Agency (CISA), Interoperable Communications Technical Assistance Program (ICTAP), in partnership with the California Statewide Interoperability Coordinator, with local leadership provided by OCSD Control One Supervising Communications Coordinator Derek Gard, KK6VGY, held the California Interoperable Communication Functional Exercise, called "Radio Rodeo," on Wednesday, May 19, 2021, at the Honda Center in Anaheim, with some command functions at Loma Ridge. Harlan Squires, KJ7BLY, from Department of Homeland Security/CISA/ICTAP, came in from Arizona to oversee the exercise and greeted OCRACES Chief Radio Officer Ken Bourne, W6HK, and Joe Selikov, KB6EID, at Loma Ridge with a surprise Master Scenario Events List (MSEL) of 28 AUXC exercise tasks to be accomplished in addition to ICS 201 (incident briefing) and other RACES tasks that had already been planned. Participants were required to maintain an ICS 214 unit log as they accomplished their tasks. The same MSEL was given to OCRACES Radio Officer Scott Byington, KC6MMF, who was in charge of RACES operations at the Honda Center. This list kept Scott extremely busy, as he delegated tasks throughout the venue to various agencies.
The MSEL required that a frequency for all AUXC be designated, which was already done in our original planning. We had a modified ICS 205 for identifying frequencies according to the exercise timeline.
Setup began at 0700 hours at the Honda Center. Scott Byington set up an impressive 88-foot 60-meter dipole between the tops of tall light posts in the north parking lot. Gary Standard, K6GSX, and Peter Putnam, NI6E, from the Newport Beach Repeater Club EmComm unit, set up another impressive antenna on a very tall trailer-mounted pneumatic tower with Gary's military adjustable dipole at the top, resonated on 40 meters. This fulfilled another MSEL task.
RACES operations began at 0900, with communications from both locations to outside Orange County exercise venues (Riverside City CERT, Riverside County RACES at the Ben Clark Training Center, Los Angeles County Sheriff's Communications Center, and Maricopa County ARES in Phoenix, Arizona, via the Cactus Intertie System on 70 centimeters. At 0930 hours, communications from both locations were conducted to outside Orange County exercise venues on 40 meters and 60 meters. The stations at the Honda Center were more successful on HF, because they were using horizontal antennas, which are effective for Near Vertical Incidence Skywave (NVIS) propagation. The Hy-Gain DX-88 vertical antenna at Loma Ridge has a lower angle of radiation and is effective at greater distances, but is not good for NVIS communications within 300 to 400 miles.
Beginning at 1000 hours, simplex communications were conducted locally at the Honda Center and from Loma Ridge on 146.595 MHz. Before 1100 hours, communications were also conducted on the 156.895 MHz repeater and on the 449.100 MHz repeater, with attempts to reach Riverside County RACES.
Honda Center net control on HF, 2 meters (simplex and repeater), and 70 centimeters (Cactus) was operated from Control 7 and from stations provided by Scott Byington (OCRACES) and Gary Standard and Peter Putnam (Newport Beach Repeater Club/EmComm).
The MSEL had several tasks related to Winlink, starting with "Access the AUXC specific portal on Winlink." Scott MacGillivray, KM6RTE, operated both a temporary RMS gateway and a portable Winlink Express client station from the City of Orange Amateur Radio (COAR, the city's RACES unit) location of the Honda Center parking lot.
The exercise MSEL requested a demonstration of a mesh network, which was fulfilled by Mission Viejo RACES Member Don Hill, KE6BXT, who demonstrated an AREDN mesh network to communicate with Riverside County RACES via a node on Pleasants Peak in the Santa Ana Mountains east of Orange. He also communicated locally with Costa Mesa's mobile communications vehicle (MCV), coordinating with MESAC's Chief Radio Officer Patrick Williams, KJ6PFW, who also communicated via Winlink with Scott MacGillivray's station.

RACES Runs Portable Exercise on May 1, 2021
On Saturday, May 1, 2021, OCRACES conducted a City/County RACES & MOU ACS Exercise. Because of concerns that emergency communications might be degraded or fail due to poor repeater coverage in some areas of the county, or due to possible repeater failure, this was a field-deployment exercise and focused on alternative means of communications in case of such repeater problems. These alternative means of communications consisted of simplex communications on 2 meters FM and Near Vertical Incidence Skywave (NVIS) on 60 meters. Relay stations were ready to assist net control with coverage. Net control was planned to be at a hilltop location in Orange or Anaheim Hills. However, at the last minute, Loma Ridge, which had been in a COVID lockdown for more than a year, suddenly became available for running the drill from the EOC RACES Room. OCRACES Chief Radio Officer Ken Bourne, W6HK, and Joe Selikov, KB6EID, operated net control, while members of county and city RACES units were in the field testing simplex coverage on 146.595 MHz and propagation on 60 meters. The exercise simulated failure of all OCRACES repeaters and focused on finding reliable locations throughout Orange County for communicating with Loma Ridge and between cities. NVIS propagation was tested on 60 meters for countywide coverage, using the same frequency as the weekly 10:00 AM Saturday OCRACES nets on 5371.5 kHz upper sideband (dial frequency). Out-of-county stations assisted with relays on 60 meters.
This was an open exercise, with any radio amateur welcome to check in. This simulated conditions where we need to communicate with any station that has emergency traffic.
During the first 15 minutes of the exercise, all RACES and MOU units checked in their own members on their primary simplex frequencies. Joe Selikov, KB6EID, called a roll of OCRACES members on 146.595 MHz simplex, and 13 checked in: Robert Stoffel, KD6DAQ; Joe Selikov, KB6EID (net control); Ken Tucker, WF6F; Tom Tracey, KC6FIC; Walter Kroy, KC6HAM; Ken Bourne, W6HK; Scott Byington, KC6MMF; Randy Benicky, N6PRL; Steve Livingston, NJ6R; Ray Grimes, N8RG; Fran Needham, KJ6UJS; Jack Barth, AB6VC; and Lee Kaser, KK6VIV. From 0915 to 1000 hours, Joe called the roll of city RACES and MOU units on 146.595 MHz, and asked each to report the number of its members who checked in on their primary simplex frequencies. Checking in were (with their checked-in members in parentheses): Anaheim (21), Brea (4), Costa Mesa (18), Cypress (6), Fountain Valley (5), Fullerton (4), Huntington Beach (12), Irvine (31), Laguna Niguel (9), Los Alamitos/Seal Beach (16), Mission Viejo (13), Orange (12), Westminster (2), American Red Cross (6), and OCHEART (11). There were 18 additional check-ins to OCRACES net control on 2 meters.
From 1000 to 1100 hours, Ken Bourne, W6HK, called a roll of city RACES units on 60 meters, with 35 total check-ins. Checking in were Anaheim, Brea, Costa Mesa, Cypress, Fountain Valley, Irvine, Laguna Woods, Mission Viejo, and Orange. Also checking in were Cal OES CRU in Cypress, Newport Beach Repeater Club, and OCHEART. Six OCRACES members checked in on 60 meters. Also checking in were Cal OES CRU in Campo (San Diego County), Ventura County ACS, Nye County ARES in Amargosa Valley, Nevada, and Nye County EmComm in Pahrump, Nevada. Eight visitors also participated.

RACES Wants You!
Experience the most exciting and rewarding part of amateur radio. Being a RACES member gives you the opportunity to sharpen your operating skills and technical knowledge while volunteering your services in public-safety communications. Get involved in emergency communications now.
To become an OCRACES member, you must first be a Sheriff's Professional Services Responder (PSR, which is a non-sworn Reserve) or a Reserve Deputy Sheriff. PSR information may be found on this page on the Orange County Sheriff's website. Click on "Reserve Interest Form" in the left column. Then attend the next PSR Orientation followed by the PSR Prescreen. You can find the dates for those events by clicking "Reserve Testing & Orientation Dates" on the above web page. A background check will be conducted by the Sheriff's Department. You must also attend three OCRACES meetings (online or in-person), in addition to passing the OCSD background for PSR, to become an OCRACES member.
OCRACES members need to have a dual-band radio to access our 2-meter and 70-centimeter repeaters. Members are also required to pass the IS-100, -200, -700, and -800 courses, which may be found on the FEMA website at https://training.fema.gov/is/crslist.aspx.
Click the Contact OCRACES link for more information.
Events Calendar


June 25: 1000 hours
OCRACES ACS Net
60 m channel 4

June 25-26
Field Day

June 27: 1900 hours
OCRACES ACS Nets
2 m/70 cm/1¼ m/6 m:
Fran Needham, KJ6UJS

July 2: 1000 hours
OCRACES ACS Net
60 m channel 4

July 4: Independence Day
No net, no meeting

July 9: 1000 hours
OCRACES ACS Net
60 m channel 4

July 11: 1900 hours
OCRACES ACS Net
2 m: Joe Selikov, KB6EID

July 11: 1930 hours
OCRACES Online Meeting

July 16: 1000 hours
OCRACES ACS Net
60 meters channel 4

July 18: 1900 hours
OCRACES ACS Net
2 m: John Pilger, K6PIO

July 23: 1000 hours
OCRACES ACS Net
60 meters channel 4

July 25: 1900 hours
OCRACES ACS Nets
2 m/70 cm/1¼ m/6 m:
Ken Tucker, WF6F

July 30: 1000 hours
OCRACES ACS Net
60 meters channel 4