APRS at Next OCRACES Meeting: Monday, July 1st
The next County of Orange RACES meeting will be on Monday, July 1, 2019, at 7:30 PM, at 840 N. Eckhoff Street, Suite 104, in Orange. Our featured speaker, Mark Warrick, KM6ZPO, will give a fascinating demonstration of PinPoint APRS and SARTrack.
PinPoint is free software that allows you to visually track and communicate via amateur radio. During an emergency, it can be used as a location-aware tactical communications tool. It is mostly used as a tool for tracking hams and assets on a map, although it is capable of so much more. During, for instance, a weather spotting event, an incident commander could visually track where spotters are deployed in the field, and direct them away from approaching weather using an area map on a computer screen. PinPoint has built-in mapping and supports quite a few different map providers, including Google maps, Bing maps, Yahoo maps, OpenStreetMaps, including satellite and hybrid imagery. PinPoint caches all map tiles that are requested from a map provider to ensure tile servers are not overburdened and allowing for offline use. Once maps are cached, PinPoint can be taken offline, so it's perfect for use in rural areas where Internet access is unavailable. At the same time, PinPoint supports (RX only) iGate and APRS-IS operation while connected to the Internet.
SARTrack is a very advanced amateur radio APRS program and software suite with a Windows-based client and database server and an Android app. It's also free! When installed in "SAR" mode, it will run as an advanced Operational Management and Tracking system for Search and Rescue and Emergency Management. Mark believes that SARTrack is designed more for the serious user who needs a lot of information and communications, versus the casual user who would probably prefer the simpler interface and setup of PinPoint APRS. Mark notes that SARTrack has a built-in messaging feature that lets you exchange messages via APRS stations through a handy interface that resembles simple e-mail. Although SARTrack is intended for Search and Rescue, Mark says you could also use it for other applications such as exchanging bearings on a cooperative T-hunt, messaging when the Internet goes down, etc. "So long as the digipeaters have power (and most of them will even after a major power outage), it would be very easy to keep in contact with other ham stations via APRS."
If you have never used APRS, Mark's presentation will give you a strong incentive to get started. If you already have some APRS experience, Mark will reveal some exciting and important enhancements with PinPoint and SARTrack.

ACS Radio Rodeo Rides Again on May 4, 2019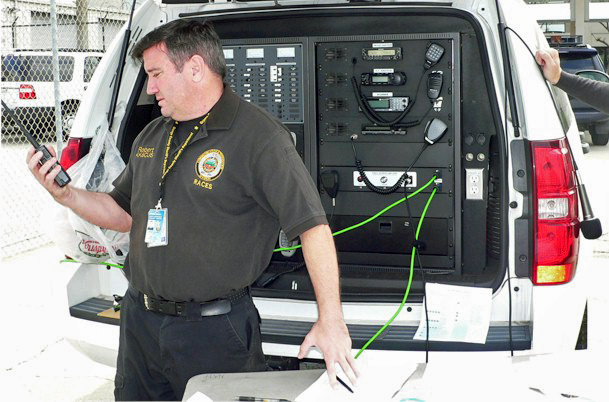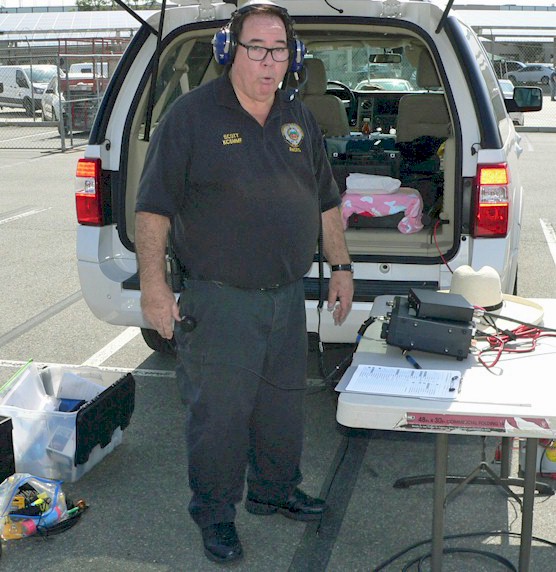 Assistant Radio Officer Bob McFadden, KK6CUS (left photo), at Control 7 and Radio Officer Scott Byington, KC6MMF, at his 60-meter portable station during ACS Radio Rodeo on May 4, 2019.
City and County RACES and MOU units participated in the annual ACS Radio Rodeo on Saturday, May 4, 2019, as they gathered at the rear parking lot of OCSD Communications & Technology Division in Orange. They began setting up before 0800 hours with OCSD's Control 7 Chevy Tahoe providing net-control facilities on 2 meters and 70 centimeters, Peter Putnam's (NI6E from Newport Beach RACES) surplus news van providing net-control facilities on 6 meters and 1¼ meters, and OCRACES Lt. Scott Byington's (KC6MMF) portable station providing net-control facilities on 60 meters. At 0830 hours, OCRACES Capt. Ken Bourne briefed all participants of exercise procedures. Questions were answered on 146.595 MHz simplex.
Beginning at 0900 hours, roll calls of stations at the local site were conducted on the five bands. The first local net was on 60 meters, run by Lt. Byington, with 10 check-ins. Near Scott's setup was a portable station set up by OCRACES Sgt. Jack Barth, AB6VC. The 60-meter net was run on 5346.5 kHz upper sideband (dial frequency), the same frequency used most Saturday mornings at 10:00 AM for the Cal OES Southern Region ACS Net, usually run by OCRACES. The next two Rodeo nets were run on the OCRACES 2-meter repeater (29 check-ins) and then on the 448.320 MHz repeater (21 check-ins) by Roger Berchtold, WB6HMW (sadly, now a silent key), from Control 7, while Sgt. Bob McFadden, KK6CUS, oversaw operations. The final two nets were conducted on the OCRACES 6-meter repeater (11 check-ins) and 1¼-meter repeater (16 check-ins) by Tony Scalpi, N2VAJ, assisted by Tom Wright, KJ6SPE, from the NI6E van. Announcements of net-frequency changes were made by OCRACES Sgt. Tom Tracey, KC6FIC, on 146.595 MHz simplex. OCSD Emergency Communications Manager Lee Kaser, KK6VIV, made announcements over the Control 7 public-address system. Other OCRACES members participating and checking into the nets included Matt Luczko, KM6CAO, and Randy Benicky, N6PRL, both checking in from Randy's car, Robert Stoffel, KD6DAQ (who was also the event evaluator), Sgt. Jack Barth, AB6VC, from his portable station, Walter Kroy, KC6HAM, Sgt. Ernest Fierheller, KG6LXT, and Fran Needham, KJ6UJS. Applicant John Pilger, K6PIO, also checked in.
At 1000 hours, OCRACES began checking in on eight different Cal OES nets run from the Southern Region EOC in Los Alamitos. The nets were on 60 meters Channel 2, Cactus 70-cm linked system, SCRN 70-cm linked system, EARN 1¼-m linked system, OCRACES 448.320 MHz repeater, LACDCS repeaters, and a Riverside County 1¼-m RACES repeater. OCRACES checked in from Lt. Byington's station, Control 7, and the NI6E van. During this time period, local participants inspected Control 7, the NI6E van, Placentia Police Department's impressive Mobile Command Vehicle, and portable stations from OCRACES members as well as members from Buena Park RACES, Costa Mesa RACES (MESAC), Fountain Valley RACES, Huntington Beach RACES, Laguna Woods RACES (Radio Officer Bruce Bonbright, NH7WG, who also communicated with their Incident Command Post in a field behind the Laguna Woods Community Center), Mission Viejo RACES, Westminster RACES, and American Red Cross. Members from Anaheim RACES, Laguna Niguel ACS, and Orange RACES (COAR) also participated and communicated with their members who were deployed to other events, such as most COAR members who were with the Orange Police Mobile Command Vehicle at the Orange May Parade.

OCRACES Activates for February 2nd Flash Flood Warning
On Friday, February 1, 2019, OCSD Emergency Communications Manager Lee Kaser, KK6VIV, and OCRACES Chief Radio Officer Ken Bourne, W6HK, discussed the Flash Flood Warning that was predicted for the next day, Saturday, February 2nd, and that, if it occurred, OCRACES should activate. Sure enough, the National Weather Service declared a Flash Flood Warning on Saturday. When that happened, Capt. Bourne contacted Assistant Radio Officer Tom Tracey, KC6FIC, and requested him to notify all members via AlertOC of an activation. Upon receiving his AlertOC notification of the activation, Radio Officer Scott Byington, KC6MMF, called Capt. Bourne on the OCRACES 2-meter repeater and asked what was required. Bourne said he was on his way to the Orange County EOC and needed one more member at the EOC RACES Room. Lt. Byington soon headed to the EOC.
Activation announcements stated that flooding or emergency reports would be taken from OCRACES members in the field and relayed to the EOC Command Center from the RACES Room. However, OCSD Emergency Management Division (EMD) did not activate the EOC, but Bourne and Byington could have run any emergency messages to Control One if necessary. After a couple of hours, it appeared that weather conditions were not so severe that the activation had to continue, and therefore OCRACES was deactivated.
On February 14th, NWS issued another Flash Flood Warning and the EOC activated to Level 3 (low level). OCRACES was advised that no response was needed until EMD elevated the level (which they didn't). All members were asked to advise of their availability in case of activation.

RACES Conducts Deployment Drill on October 5, 2018

In the left photo, OCRACES Assistant Radio Officer Bob McFadden, KK6CUS, ran 60 meters, using this pair of MFJ Hamsticks on a mast, at Dana Point. He also ran portable Winlink and checked in on 2-m and 70-cm repeater and simplex frequencies. In the right photo, Tony Scalpi, N2VAJ, set up this portable station at Belmont Park high in the hills of Orange. Using a yagi antenna, he successfully relayed simplex stations around the county to net control at Loma Ridge. Tony also operated 60 meters, using a homebrew vertical antenna.
The City/County RACES & MOU ACS Exercise on Saturday, October 6, 2018, from 0900 to 1100 hours, was a deployment exercise to test alternate means of communications in case of repeater failure or inability to access the OCRACES repeaters on 2 meters and 70 centimeters from deep in the canyons or below cliffs in beach areas or even from some "dead spots" in cities throughout the county.
60 meters (channel 2) proved to be an excellent means of countywide communications during the drill, especially when repeater failure was simulated. Net control at the Orange County EOC communicated on 60 meters with portable OCRACES stations in Dana Point, Belmont Park (Orange), Irvine Regional Park, Silverado Canyon, Williams Canyon, Carbon Canyon, and Trabuco Canyon. Net control also communicated with portable city RACES stations in Cypress, Brea (Olinda Village), Huntington Beach, Laguna Woods, Newport Beach (Crystal Cove), and Westminster, as well as with American Red Cross. Portable stations in canyons and beach areas were also able to communicate with each other on 60 meters. N6WIX of Ventura County ACS provided a relay from Ventura between canyons in Orange County, when needed. Other City RACES units participating from non-portable locations included Buena Park, Fountain Valley, Fullerton, Laguna Niguel, Orange, Seal Beach/Los Alamitos, and Placentia. American Red Cross also participated.
Six stations participated on DMR on the KA6P Santiago Peak repeater, Local-1 talkgroup. Seven OCRACES and City RACES members communicated via the Zello app on their smartphones during the drill.

OCRACES Braves the Heat at Ham Jam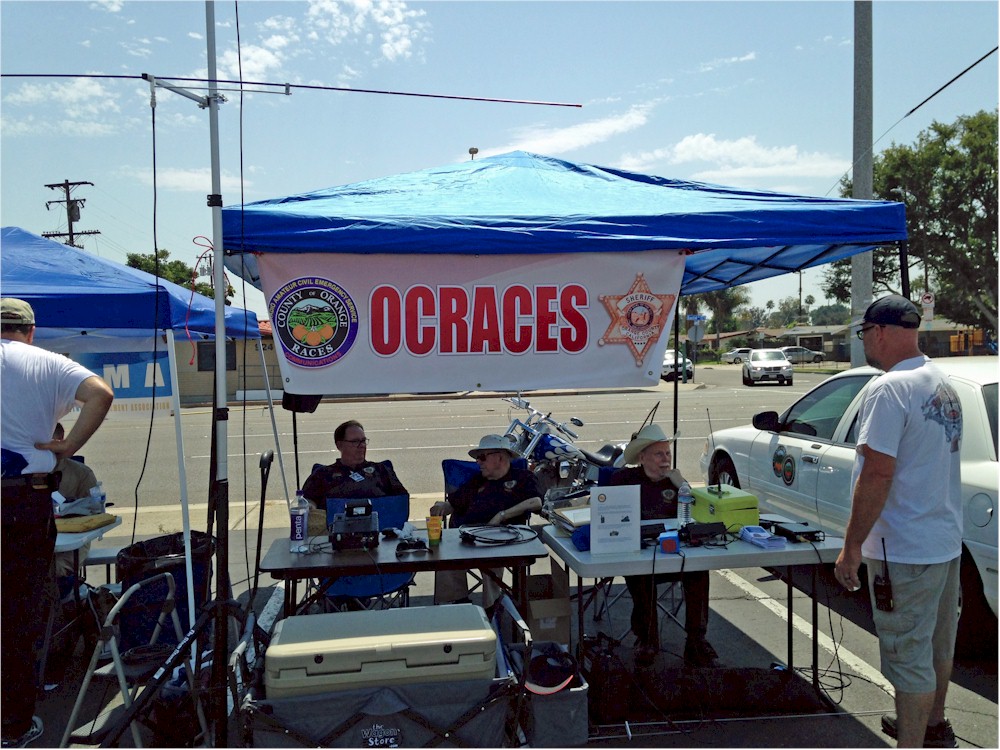 OCRACES members under the canopy include (left to right) RACES Lt. Scott Byington, KC6MMF, Martin La Rocque, N6NTH, and RACES Capt. Ken Bourne, W6HK.
It was very toasty (105 degrees) at HRO Ham Jam on Saturday, July 7, 2018. Fran Needham, KJ6UJS, brought a nice canopy to provide shade to the other OCRACES members who participated and promoted RACES to many visitors who dropped by our booth. Ken Bourne, W6HK, set up a portable 40-meter station and worked Newport Beach, Laguna Woods, and Ventura with 20 watts into a pair of MFJ Hamsticks up 9½ feet. Scott Byington, KC6MMF, set up a 20-meter station with an Elecraft KX3 and a beam, and Tony Scalpi, N2VAJ, set up a 6-meter station. Also participating were Bob McFadden, KK6CUS, and Martin La Rocque, N6NTH. In spite of the heat, many visitors dropped by the booth and learned about OCRACES.

County and City RACES Members at OCARC Field Day
Participation was very good at the Orange County Amateur Radio Club 2018 Field Day at the Walter Knott Education Center near Knott's Berry Farm in Buena Park. Setup began on Friday, June 22nd, and operations occurred on Saturday, June 23rd, beginning at 1100 hours, and lasted until 1100 hours Sunday, June 24th. Stations in operation included 10 m/40 m SSB (Chip Margelli, K7JA, band captain), 10 m/40 m CW (Kenan Reilly, KR6J, band captain), 15 m/80 m SSB and CW (Tim Goeppinger, N6GP, band captain), 20 m SSB (Ron Mudry, W6WG, band captain), 20 m CW (Jim Schultz, AF6N, band captain), VHF (Robbie Robinson, KB6CJZ, band captain), Satellite and Digital (Greg Bohning, W6ATB, band captain), and GOTA (Tim Millard, N6TMT, band captain).
Attending OCARC Field Day from OCRACES were Chief Radio Officer Ken Bourne, W6HK, Radio Officer Scott Byington, KC6MMF, and Martin La Rocque, N6NTH. From Buena Park RACES were Chief Radio Officer Bill Lovelace, K6MET, Alternate Radio Officer Jason Ho, KJ6VSV, and Grahame Emerson, AD6GE. They brought the BPRACES well-equipped Chevy Suburban to Field Day, and met with Buena Park Mayor Pro Tem Art Brown.
Many of the OCARC members at Field Day are also members of the City of Orange Amateur Radio (COAR), which is the city's RACES Unit.

RACES Wants You!
Experience the most exciting and rewarding part of amateur radio. Being a RACES member gives you the opportunity to sharpen your operating skills and technical knowledge while volunteering your services in public-safety communications. Get involved in emergency communications now. Click the Contact OCRACES link for more information.
Events Calendar
June 24: 1900 hours
OCRACES ACS Net
2 m/70 cm/6 m/1¼ m/10 m: Jack Barth, AB6VC

June 29: 1000 hours
60 m Cal OES Southern Region ACS Net, 5346.5 kHz upper sideband (dial frequency)

July 1: 1900 hours
OCRACES ACS Net
2 m: Tom Wright, KJ6SPE

July 1: 1930 hours
OCRACES Meeting
840 N. Eckhoff Street, Suite 104, Orange

July 6: 1000 hours
60 m Cal OES Southern Region ACS Net, 5346.5 kHz upper sideband (dial frequency)

July 8: 1900 hours
OCRACES ACS Net
2 m: Randy Benicky, N6PRL

July 13: 1000 hours
Cal OES Southwest ACS Meeting, State and County RACES Officers Only, San Bernardino (no 60-meter net)

July 15: 1900 hours
OCRACES ACS Net
2 m: Ken Bourne, W6HK

July 15: 1920 hours
Cooperative T-Hunt

July 20: 1000 hours
60 m Cal OES Southern Region ACS Net, 5346.5 kHz upper sideband (dial frequency)

July 22: 1900 hours
OCRACES ACS Net
2 m/70 cm/6 m/1¼ m/10 m: Scott Byington, KC6MMF

July 27: 1000 hours
60 m Cal OES Southern Region ACS Net, 5346.5 kHz upper sideband (dial frequency)

July 29: 1900 hours
OCRACES ACS Net
2 m: Ernest Fierheller, KG6LXT

August 3: 1000 hours
60 m Cal OES Southern Region ACS Net, 5346.5 kHz upper sideband (dial frequency)

August 5: 1900 hours
OCRACES ACS Net
2 m: Ray Grimes, N8RG

August 5: 1930 hours
OCRACES Meeting
840 N. Eckhoff Street, Suite 104,
Orange

Augusst 10: 1000 hours
60 m Cal OES Southern Region ACS Net, 5346.5 kHz upper sideband (dial frequency)

August 12: 1900 hours
OCRACES ACS Net
2 m: Walter Kroy, KC6HAM

August 17: 1000 hours
60 m Cal OES Southern Region ACS Net, 5346.5 kHz upper sideband (dial frequency)

August 19: 1900 hours
OCRACES ACS Net
2 m: Martin La Rocque, N6NTH

August 19: 1920 hours
Cooperative T-Hunt

August 24: 1000 hours
60 m Cal OES Southern Region ACS Net, 5346.5 kHz upper sideband (dial frequency)

August 26: 1900 hours
2 m/70 cm/6 m/1¼ m/10 m: Matt Luczko, KM6CAO

August 31: 1000 hours
60 m Cal OES Southern Region ACS Net, 5346.5 kHz upper sideband (dial frequency)